The Shallows: What the Internet is Doing to Our Brains
Nicholas Carr has written one of the most thought provoking books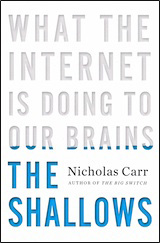 I've read in quite some time. It is a very well researched analysis on the impact of the Internet and the way we think. Carr is an excellent writer and communicates a serious concern without being alarmist (though perhaps it should be pretty alarming). Everyone who reads books, uses the Internet regularly and has children; MUST read this book! If it doesn't provoke significant concern then read it again AND think about the book's message.
The basic premise is that the human brain is very plastic (neuroplasticity) and even as adults it can be reshaped by repeated experience. The Internet is providing repeated "learning" experiences that result in our brains losing the ability to deeply contemplate complex issues (among other loses). Carr cites "deep reading" as an example. We (myself included) find it more and more difficult to focus on serious reading for extended periods. We find "deep reading" difficult because our brain has been programmed to skim and scan web pages that bombard us with an overload of messages to grab our attention in a matter of seconds. As a result, we've lost much of our ability to focus!
Powered by ScribeFire.
Posted: July 5th, 2010 under Books.
Tags: books, brain, internet, neuroplasticity, reading
Write a comment